Bow Tie - Valentine's Red XOXO Bow Tie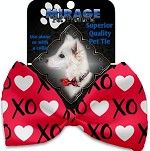 These bow ties will make your pup ready to attend any event or party or just look fabulous everyday!

These bowties come with a durable elastic band that will stretch to fit neck sizes 10" to 19". The bow itself is made of elegant silky polyester and measures four inches wide and two and half inches tall. Can be worn with or without a collar.
THESE ARE ONLY A DECORATIVE ITEM AND CANNOT BE USED WITH A LEASH OR AS A RESTRAINT!