Barettes - Petals & Pansies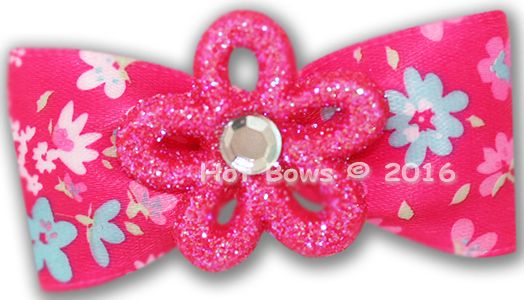 Make sure your pup is always looking their best. Bows, barrettes, clips are an easier way to make your baby look fabulous and keep that long hair out of their eyes. Stylish and functional!

Pink petals and assorted flowers with a pink glitter flower center with a crystal (best selling flower). Approx 1.75" wide; Stiffened for extended wear; 7/8" ribbon
Hot Bows are original designs created to add some fun and fashion and can be enjoyed by girls and pets alike! Most Hot Bows are stiffened with a special non-toxic stiffener and they are designed to last longer then other ribbon bows. Trendy styles and high quality products make Hot Bows a great fashion accessory for all. Hot Bows are approximately 1 3/4" long, while the puffs are up to 2" wide. Our Doing Bigger Better styles are 2.5"-3.5", unique fun designs, great for the dog that wants a little more pop and wonderful on kids of all ages. Most styles come with three attachment options including latex bands (2 each), French clips, no-slip French clips and our non-stiffened tulle puffs are available with alligator clips. Made in the USA.